100 Years of Winchester Cartridge Boxes, 1856-1956
by
Ray T. Giles
&
Daniel L. Shuey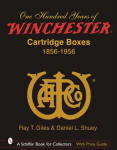 The 1st and ONLY definitive work on cartridge boxes, covering all the calibers for which Winchester cataloged their rifles, from the Volcanic to the Model 88. Thoroughly researched, this
312 page
book contains over 1,400 full color photographs as well as price and rarity guides in a high quality, hard-cover book with dust-jacket!
Will be happy to sign your copy on request.
RTG

$69.95, ppd
22 Long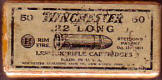 Winchester. Early 1920s Lesmok loading w/37 orig rds. (Dunn: WRA-10 L-5). Longs are not easy to find! Cheap!
$25
sold
22 Short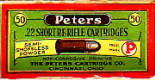 Peters. Very popular "Multicolor" series, PCC-5B S-1c. Missing a corner of the label on the box bottom, but has 30 orig ctdgs and the bright, colorful top & end labels are all there. Great display example, cheap!
$40
sold
30 Remington Auto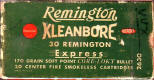 Remington. Rough box, nice rds.
$60
sold
30 Remington Auto

Western Super-X. Scarce 1959-61 style box in the desirable Silvertip loading. Rough box but clean rds.
$65
sold
30-'06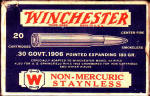 Winchester. This is the exact "1932 Series" box pictured on pg 259 of Giles & Shuey. Fifteen original ctdgs remain, all showing the early & desirable "WRACo .30 G 1906" headstamp. Very soon after this box graphic was introduced the headstamp was changed to "WRA" rather than "WRACo". If the pic in the book looks different (& nicer) it's because we chose to show the back side of the box as it is in even better condition than the front shown here. Own "a piece of the book" -- Cheap!
$110
30-30

Dominion. The scarce & unusual "flat box" with the desirable "Bent-D" logo. Msg 1 edge of lid and part of 1 long side. Has 14 orig rds remaining. Seldom encountered!
$85
30-30 FMJ
Boat Tail B'ts

Western Super-X, early box, ca 1930s, in the rare "Boat Tail, Metal Case [FMJ] Bullet" loading.
The box has a small pc msg at the thumb-cut (see pic) and contains 13 clean, original cartridges.
$45
32 RIMFIRE, LONG OR SHORT
PLEASE SEE "OBSOLETE" PAGE FOR OTHER POSSIBLE LISTINGS IN THIS CALIBER
32 S. Colt
Silver "Horse & Rider Logo" box
Win-Western box w/ 44 clean, original rds.

$50

FIRST Box!

32-20
(32 WCF)
Winchester. This is the FIRST 32-20 box, thought to be ca 1882-85. In writing the caption for the earliest 32-20 box we had found prior to putting together this chapter in Giles & Shuey (pg 51), I stated that there should be a box label picturing an unheadstamped cartridge but "...such has not been seen by the authors". Well, here it is...it's 2/3 full (34 rds) but remains a highly collectible box!
$595
sold
32-20
(32 WCF)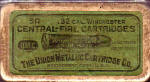 UMC. Early (late-1800s) 2-pc Blk Pwdr box w/ 20 orig ctdgs, all with the 1st UMC headstamp for this caliber: "UMC 32 CFW" (rather than 32-20 or 32 WCF). While the box obviously shows some age, the side-seal label remains over 95%.
$75
sold
32-20
(32 WCF)

U.S. Cartridge Co.
32 WCF version of the 44-40 box pictured on pg 78 of Giles & Shuey(the "Shameless Imitation" box), made to look like an early-1880s Winchester box in everything but name. The ctdgs are the very early un-headstamped type and 20 orig ctdgs remain in the box.
Seldom seen, interesting box in all-original, untouched condition w/ tight seams and corners.
$150
sold
32-20
(32 WCF)
Rare FMJ HV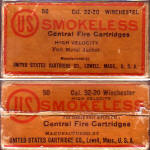 U.S. Cartridge Co. This is the rare "Full Metal Jacket High Velocity" loading, thought to have been introduced about the same time as Winchester's, ca 1903-05. Winchester boxes in this loading were labeled in the lavender or "pinkish" box in which all Win FMJ HV loadings were labeled beginning in 1903. All such Win boxes are rare, having been made in a mere handful of calibers, and range from around

$400 for the more "common" or lesser condition examples to around $2500 for .50-110

.

Note the fine print on the side stating: "For Single Shot Rifles only." They obviously didn't want to see them used in Win '73s but why not M92s, the gun for which Win created the ctdg? This box contains 20 original ctdgs, all headstamped "USCCo 32 WHV" (Win High Velocity) and is the only such box I've ever found! [From my personal collection]
$175
sold
32-40


click for pic
Dominion. The scarce & unusual "flat box" with the desirable "Bent-D". logo and Blk Pwdr loading. Tape-removal stains on edges. Has 13 orig rds remaining. Seldom encountered!
$75
32-40
Peters. Early 2-pc "Semi-Smokeless" labeling but dating is only a guess, say 1900-1910. Has the early "football" seal on back but contains only 7 ctdgs, 2 of which have been struck. Back-side lower left corner is "soft"; still, a great, seldom-seen, displayable box by an obsolete maker! Cheap!
$50
SOLD
36 Colt Navy

D.C. Sage.
Similar to the above pkt, but calling out only the Colt Navy, these are the desirable "Hotchkiss Patent" (of Feb 11, 1862) "Seamless Skin Cartridges", wrapped & SEALED in a wood-block pkt of 6. HOWEVER, the pull-string is missing and upon close inspection it may be discerned that this pkt has been very skillfully re-sealed and lightly re-coated, looking, to the untrained eye, very much as it did when it left the factory. Truth be told, I have seen this "work" before on Frankford Arsenal boxes from the 1870s. All I can say here is that a trusted dealer has had a hand in it. Can't deny that it's a very displayable item however, and a lot cheaper here, I'm sure, than when it was first sold after "restoration". Fortunately, I have X-rays from all 3 angles (they'll come w/ the pkt) and the contents are absolutely correct. It's just been very nicely re-sealed...
$265
38 ACP +P
1980s white bxs
Win-Western, 130 gr FMJ +P loading (NOT for old 38 ACP autos like Colt 1903)
$30

38 Colt Special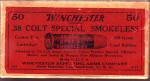 Winchester. The uncommon "38 Colt Special" is nothing more than a 38 S&W Special except that the bullets are flat-nose rather than round nose. Upon this insignificant & irrelevant difference did Winchester hope to make this increasingly popular caliber into a Winchester proprietary caliber. Obviously the attempt failed as we now commonly refer to the caliber simply as "38 Special" or, occasionally, "38 S&W Special". But never as "38 Colt Special". Solid box containing 35 original ctdgs headstamped: "WRACo .38 Colt Sp'l". Interesting and fairly scarce bit of cartridge history!
$75
38 S&W Special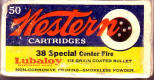 Western "Bullseye" box, pre-Olin (late-'40s). Shows a bit of shelf wear but that's all. Clean ammo!
$40
38-40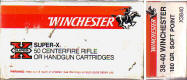 Win-Western "Horse & Rider" box, full but 6 Rem-UMC rds.
$60
38-55
High Velocity

Imperial (Canada) . True High Velocity (1600 fps), arguably the best hunting cartridges in this caliber; unfortunately only 17 rds remain in this box, so...
$60
41 SHORT RIMFIRE
PLEASE SEE "OBSOLETE" PAGE FOR OTHER POSSIBLE LISTINGS IN THIS CALIBER
41 Long Colt

Winchester. Circa mid-1880s/early '90s, this Black Powder, Colt Thunderer "Picture Box" is one of the most sought-after of all Colt boxes. Top label shows some even shelf wear. Side-seal label (tho not sealed on 3 sides) is approx 80-85% but the side featuring the Rampant Colt logo is closer to 99% & is SEALED. (see pic). There are 35 "WRACo .41 L.D.A." headstamped cartridges though not all are native to the box as some have slightly different primers. Still, these boxes are highly collectible and displayable and this one is CHEAP!
$545
44 Colt Packet
(REPRO)

Paul R. Murphy, Boston Mass. This packet of 6 reproduction .44 Colt "Combustible Envelope Cartridges", while not a risk to being passed off as a genuine, "period" packet, it is minty and quite possibly (and feels like) it contains repro cartridges (unlike the phony packets going around). Anybody know anything about these, when they were made or who Paul Murphy was? Neat item at any rate!
$50
45-75 WCF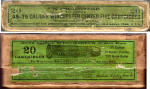 Winchester. Variety not in Giles & Shuey and a caliber never found on the Bargain Bin page! Well, almost never. Ctdgs all correct & orig "WRACo .45-75 WCF" headstamps but not all native to the box (with 3 showing staining and 2 showing some corrosion). Box is quite solid with only a minor split at right end of lid. This is the cheapest 45-75 box I've ever had on these pages!!
$350
45-85 Marlin

Connecticut Ctdg Co. In business from 1962 till about 1975, this company manufactured a line of cartridges advertised as "Cartridges Out of the Past -- Being Produced Again and Sold Here -- Fire your 'Old Favorite' Again". This box is of the earlier style, ca 1962-3. Contains all 20 orig smkls, JSP ctdgs, headstamped 45-85, & which still appear quite capable of fulfilling the Co's promise.
$85
sold
12 Ga
Shot Shells,
Blk Pwdr

Navy Arms. Black Powder shells, 10 rd box, 2-3/4", 1-1/8 oz #6 shot.
$25

100 Years of Winchester Cartridge Boxes, 1856-1956
by
Ray T. Giles
&
Daniel L. Shuey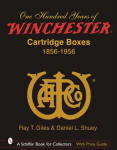 The 1st and ONLY definitive work on cartridge boxes, covering all the calibers for which Winchester cataloged their rifles, from the Volcanic to the Model 88. Thoroughly researched, this
312 page
book contains over 1,400 full color photographs as well as price and rarity guides in a high quality, hard-cover book with dust-jacket!
Will be happy to sign your copy on request.
RTG

$69.95, ppd