100 Years of Winchester Cartridge Boxes, 1856-1956
by
Ray T. Giles
&
Daniel L. Shuey
The 1st and ONLY definitive work on cartridge boxes, covering all the calibers for which Winchester cataloged their rifles, from the Volcanic to the Model 88. Thoroughly researched, this
312 page
book contains over 1,400 full color photographs as well as price and rarity guides in a high quality, hard-cover book with dust-jacket!
Will be happy to sign your copy on request.
RTG

$69.95, ppd
25 Short or Long Stevens
See "Obsolete
Ammo" page.
WHEN IN STOCK: CIL/Canuck, blu/yel bxs, Rem Klnbore, Western "Bullseye" or Peters "Rustless". Post-war mfg.
see "Obsolete" page
30 Long

Winchester. "Metallic Ctdgs" callout is an 1870s labeling making this is a late-1870s/early-1880s box. Solid w/ tight seams and STILL SEALED!
$375
30 Short

U.M.C. Picturing Marlin's "Standard Revolver" this little beauty of a very early UMC box, even while msg the back edge of the lid (see pix), retains 80+% of the side seal label and is full of original ctdgs. Rare item with great graphics!


sold
30 Short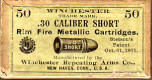 Winchester. SEALED Black Powder box. A caliber that's been extinct for 100 years, and in a factory-sealed, Black Powder 2-pc box? Yes.
Nothing more need be said...
$350
32 Extra Short

U.M.C. Solid early-1890s blk pwdr "loose pack" box (as opposed to the later "heads & tails" box). Tight seams w/ top label near 99% and side label approx 90%. An unusually nice example of this rare box for the Rem-Rider and Chicago and Minneapolis palm pistols.
$1500
sold
32 Extra Short

Winchester. FULL, EARLY (pre-1900) "loose-pack" box of this very scarce & much in demand caliber for the Rem-Rider and Chicago and Minneapolis palm pistols. Ctdgs, while apparently not all native to the box, are 100% correct impressed "H" rds. Side label is approx 90% but top label is 99+%! Well above average box!
$1500
sold
32 Short

New York Metallic Ammunition Co. EXTRAORDINARILY RARE BOX! This spur-trigger revolver "picture box" is ca 1866-67! The fragile label shows some even, light scuffing but there is no loss of text or graphics. Box is solid (tho left end of lid is replaced) and contains 3 original cartridges. This box is from the George Kass collection--no better pedigree or provenance exists!
$950
sold
32 Short

Winchester. Blk Pwdr 1880s box. Top label near perfect, side-seal 98-99% (pls ignore shrink-wrap seam on side pic). Exceptional box from my personal collection.
$215
sold
32 Long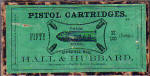 Hall & Hubbard, a direct descendant of Smith & Wesson, evolved through the partnership of Smith, Hall & Farmer followed by that of Smith, Hall & Buckland, becoming Hall & Hubbard in 1869. It then disappeared in 1874. Side label on this 50-rd loose-pack box is only about 1/3, but top label not only is all there but nearly perfect! A great historic box which, incredibly (and unlike most of these very early boxes which are most often found empty), retains 30 orig rds!
sold
32 Long
(Rare)

"Keystone Metallic Cartridge Works, Philadelphia Penn'a". Ever wonder what ammo the Keystone Cops used? Well, here it is!
Just kidding, of course, but little is actually known about this company. Apparently a private label brand, they offered very few calibers. I'm only aware of .32 RF and .22 RF though there may be one or two more. Box is missing one edge of lid but does contain 1 orig un-headstamped ctdg. Very rare maker and in a "picture box" as well!
$245
sold
32 Long
Peters "Rustless", post-war 1-pc box.
$165

32 Long RF
SEE ALSO "OBSOLETE" PAGE AND "BARGAIN BIN"

32 Long

Winchester. Post-war, 2-pc box. SEALED, NICE!
$215
32 Extra Long

Winchester. Early/mid-1870s, this is a seldom seen box or caliber. Side-seal label is approx 95% and ctdgs are all original. Boxes like these, dating from the Indian Wars period, just feel like "history"! And it's cheap...
$150
sold
32 Long or Short
Navy Arms, Canuck/CIL, other makers
Also please see "Obsolete" page and check "Bargain Bin".